Sonntag, 18. November 2007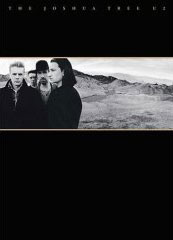 levelandleader.com:
"It was 20 years ago today " the Beatles sang on 1967 sang on their legendary 'Sgt Peppers lonely Hearts Club Band' album, and if their ever was a successor to the fab four it is probably U2. Twenty years ago U2, not the Beatles, released a their own landmark album in the 'Joshua Tree'. Tracks on the album such as "I Still Haven't Found What I'm Looking For", "Where the Streets Have No Name", and "With or Without You" are radio staples on a wide variety of formats still today. So to commemorate U2 decided to release a 20th Anniversary edition that will hit stores on Tuesday.
One of the songs included is entitled 'Wave of Sorrow' in which Bono (seen in a video below) discusses the track that just finished recording after 20 years.
Here is what the lead singer of U2 said about the song:
"Was one of the songs from the Joshua Tree sessions that we never finished… a song that was trying to describe experiences that myself and Ali had when we were working in Ethiopia during the famine."
Here is a video of Bono explaining, and singing along to, 'Wave of Sorrow' :
Disc: 1
1. Where The Streets Have No Name
2. I Still Haven't Found What I'm Looking For
3. With Or Without You
4. Bullet The Blue Sky
5. Running To Stand Still
6. Red Hill Mining Town
7. In God's Country
8. Trip Through Your Wires
9. One Tree Hill
10. Exit
11. Mothers Of The Disappeared

Disc: 2
1. Luminous Times (Hold On To Love)
2. Walk To The Water
3. Spanish Eyes
4. Deep In The Heart
5. Silver And Gold
6. Sweetest Thing
7. Race Against Time
8. Where The Streets Have No Name (Single Edit)
9. Silver And Gold (Sun City)
10. Beautiful Ghost/Introduction To Songs Of Experience
11. Wave Of Sorrow (Birdland)
12. Desert Of Our Love
13. Rise Up
14. Drunk Chicken/America

Disc: 3 (Included in the Super Deluxe Edition)
1. I Will Follow [DVD]
2. Trip Through Your Wires [DVD]
3. I Still Haven't Found What I'm Looking For [DVD]
4. MLK [DVD]
5. The Unforgettable Fire [DVD]
6. Sunday Bloody Sunday [DVD]
7. Exit [DVD]
8. In God's Country [DVD]
9. Electric Co. [DVD]
10. Bad [DVD]
11. October [DVD]
12. New Year's Day [DVD]
13. Pride [DVD]
[

more]

clevelandleader.come