Freitag, 24. August 2007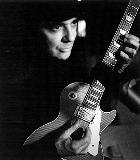 billboard.com:
Daniel Lanois has helped the biggest of the big translate their music to the masses (Bob Dylan, U2, Willie Nelson), but now he's turning the spotlight on himself. After years of being asked by friends, fans and media outlets to reveal his studio methods, the Canadian producer/artist did exactly that with the self-financed film "Here Is What Is."
In the midst of finishing "Here Is What Is," Lanois has been writing songs for the next U2 album with Eno and the band in France and Morocco, a process documented in the film. Although the two producers have worked separately with U2 for years, this is the first time both men are collaborating with the band simultaneously.
"It feels like the 'Achtung Baby' period, when everybody was really hungry to do something fresh," Lanois says of the material so far. "They have everything, and they've done everything. But the thing they should never assume they still own is the ability to be original and invent something that's never been heard before. [

more
]

billboard.com

daniellanois.com